Learn how to adjust uPVC windows. The great news is that once installed, the popular uPVC window design usually requires very little adjustment, thanks to the consistently high-quality materials that they're made with. 
This style of window is typically top-hung, where hinges are installed that enables the window to open up and outward from the frame. 
This top-hung fashion is popular for many reasons, one no doubt being that it allows for fresh breeze and ventilation whilst still shielding you from rainy British weather.
However, if you are noticing an unwelcome draft coming from the edges of your window frame, this is likely an indicator that the screws are due for some adjustment, where with a little manipulation you can easily raise or lower the height of the sash. 
Why do uPVC windows drop?
It's no disaster when a uPVC window drops a little, and it can be caused by a few reasons most likely to do with age. Glazing installers note too few plastic packers as a common influencing factor in these types of drops. 
Plastic packers are plastic spacers designed to fill up space between objects in order to provide greater structural support and stability. They can be easily bought from any homeware store and will go a long way in preserving the structural integrity of your uPVC window.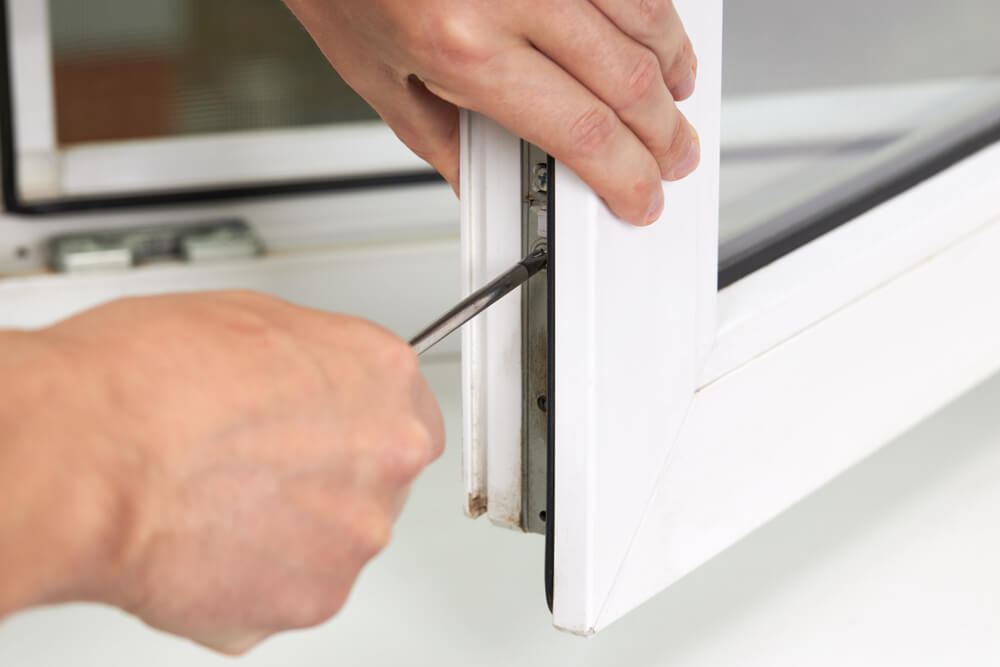 What happens when a uPVC window drops?
When a uPVC window doesn't close tight against the seal that runs along the frame, it is allowing heat to escape your home. This can lead to skyrocketing heating bills and an unpleasantly windswept house- the last issue needed during a cost-of-living crisis. 
Alternatively, it also brings further issues during the summer months when insects can creep into the house through these small faps. Moisture seeping in from the outdoors can also cause condensation and mould to foster along the walls nearest to the dropped window. Not to mention, having to use a lot of force attempting to wrench it shut will only bring about more damage. Hence, regularly checking your uPVC windows are adjusted properly will save you plenty of money in the long run. 
Luckily, these standard adjustments are easy and inexpensive to address.
How to adjust uPVC windows
Window hinges
Carefully unscrew the hinges along the uPVC frame and lift out the sash

 

Steadily and firmly replace the old hinges with new ones and screw them in nice and tightly
Open and close the window a few times to check for any gaps and ensure the window functions smoothly
How to fix a dropped uPVC sash
Addressing the window sash is where those handy plastic packers come into play.
First, tentatively remove the glass from your uPVC window and there are dedicated bead removal tools you can use for this
Close the window and realign the sash so that it sits nice and tightly

 

Reinsert the glass into the frame this time filling in air gaps with plastic packers so that there is no movement
Signs you need new uPVC windows
uPVC windows tend to be made with pretty strong and ensuring materials and can be known to last 35 years or more, but the average recommended lifespan typically sits around 20 years. 
The best metric for deciding whether or not it's time for a new installation is to pay attention to, firstly, the condition of the window frames: is there evidence of rotting, warming, or general damage? 
You ought to also take a moment to assess the health of the glass, if there is condensation between the panes of glazing that doesn't seem to disappear, then this is also a sign for some freshly produced uPVC windows. 
Refresh your windows with Framemaster
Framemaster has over 25 years of experience building the finest bespoke conservatories, orangeries, garden studios, verandas, extensions, doors, and windows across the West Midlands. With customer needs and wishes leading the way, Framemaster tailors their expertise toward helping you realise your dream home. 
We use only the most robust materials and stay up to date with the latest technology to ensure your home is kept warm and safe without compromising on aesthetic appeal. Visit our brochures to have a glimpse at the magic we do within our home improvement projects, or contact us today to begin drafting the plans to upgrade your home.